Frequently Asked
Questions
We're not just for the
birds
. 17 years ago, Helen Hill, an amazing dedicated woman and founder of
Hopalong Animal Rescue
, requested our assistance to provide a location where rescued
cats
could be adopted. From our front window, Your Basic Bird supporters adopt an average of 1-2
cats
a week, and many more
kittens
, when they are available.
All
cats
are spayed and neutered, vaccinated and thoroughly screened for health by
Hopalong
. The adoption requires screening and an adoption agreement. 95% of the donation goes directly to
Hopalong
.
Also on many Saturdays, from noon to 3pm,
Hopalong
does mobile adoption in front of
Your Basic Bird
. Go to
Hopalong.org
for more info. If you are unable to adopt, tell a friend. Help make a difference in a
cat
's life. Support
Hopalong
.
Thank you.
What type of bird should we choose for our 6 year old?
First we need to determine if a
bird
is the right companion for your child, or if any companion is appropriate at this age. Some children are more mature than others and it would be best for you to bring your child in so we can observe how she interacts with animals.This may be the right age for your child but, if we want a child to be responsible for its companion, waiting a few years would help your child to learn how to care for an animal and enjoy the relationship with this companion more fully.
Which bunny should I get for a 2-3-4 year old?
If you feel that
you
have the time to care for a
bunny
daily, hold it, cuddle it, then come visit us. A
bunny
will live for 6-8 years if cared for properly. We would recommend that a child be at least 6-8 years old before considering assumming the responsibility of having a companion. If you are getting the
bunny
for both of you and you will be the person handling the
bunny
, come talk to us. Please think about your daily schedule before making this decision.
Do I have a male or female bird ?
Make an appointment to get your bird's DNA sexing ($25.00 fee)
Should I get one or two birds ?
Most birds that are not handled by humans would welcome the company of the other bird.


I need special diet seed for my bird. Can you order it, please?
Check our stock, first. We stock over 7 varieties of pelleted or extruded diets for your
bird
's nutrition. Additionally our bulk feed which arrives weekly is fresh and clean. Remember, if you don't see a
bird
,
guinea pig
,
rabbit
,
cat
or
dog
item you are looking for in our store, we can usually special order it for you.
Do you have gift certificates?
Gift Certificates are available for any amount. Always a good idea - especially for special occasions. Call ahead and we'll have it ready for you when you visit.
What kinds
of birds
do you have?
Our socialized hand-fed
parrots include Cokatiels, Cockatoos,
Amazons, African Grays, Macaws, Lovebirds, Parrotlets, Lineolated Parakeets, African Grays Senegals and Blue Crowned Hanging Parrots. Beauty in song and color, our large selection of finches and canaries will delight all. All birds are health-guaranteed.
Help! We have a really finicky, and particularly needy, bird.
We stock many foraging toys and an entire make-your-own-toy selection.The natural Manzanita branches, swings, ropes, toys and playperches. and packaged treats will help keep your
bird
physically and mentally healthy. Our quality selection of wrought iron & stainless steel cages will ease the decision of the right home for your bird. We have items that will interest a finicky bird.
What dog products do you stock?
Our
dog
foods include Wellness, Chicken Soup for Dog Lover's Soul, Halo, Natural Choice, Science Diet. For those
dog
day afternoons, we have bulk dog biscuits, Mother Hubbard, Darford, Sojos grain-free treats, Doggy Hoots toys (including The Terrible Nasty Scaries, Flip Flop Yankers, and Real Mad Cow) and Snugga Wubba. The JW makes Invincible Chains, the strongest solid rubber ring tugs you've ever seen. Even 'Tooieh can't break these.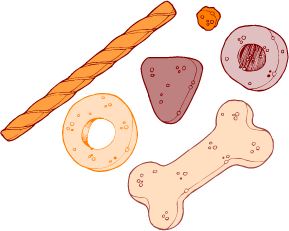 What cat products do you stock?
Our
cat
products include We have Sojos grain-free treats, Fat Cat and Snugga Wubba. Our
cat
food includes Wellness, Chicken Soup for the Cat, Lover's Soul, Halo, Science Diet, Science Diet. We also have Ducky World Yeoww organic catnip toys, feathered and fuzzy balls and wands, Fat Cat Kitty Hoots toys including EEKS mice. Halo
dog
and
cat
treats, and Zuke's Hip Action, Dogswell Vitality
cat
treats. If you don't see what you need for your
cat
, just ask; many items can be ordered for you.